The Salad Bar Survival Guide: How to Eat Healthy and Avoid Danger at a Salad Bar, Do's and Don'ts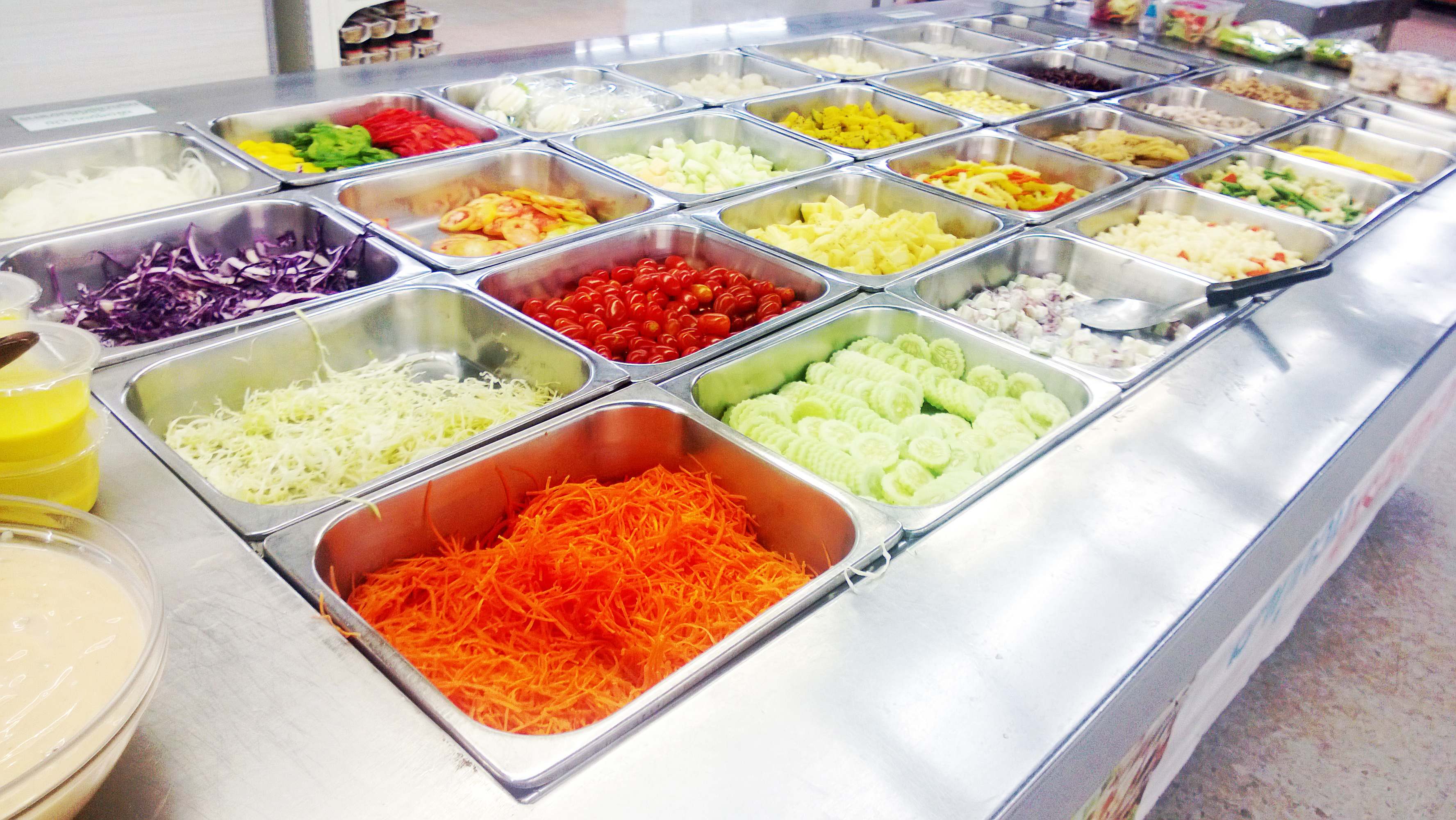 By: Dr. Rudi
It never ceases to amaze me what people select at a salad bar. Please America, pay more attention to eating healthy at a salad bar!  In Europe, generally, salad bars are far cleaner, offer more nutritious foods, and have a more limited selection of creamy dressings.
One observation I have made is that a large number of people eating from salad bars seem to be overweight. Perhaps they are eating salad simply because they think that it will help them control their weight.  I call it "The Great Salad Bar and Diet Soda Lie".
While the basic idea that eating a healthy salad for lunch or dinner is commendable, in actuality, eating a high carbohydrate, high fat salad loaded with soy based emulsifier and Omega-6 oils actually worsens metabolic syndrome in most people.  Observing people's salad bar habits for about 20 years now, I have developed a simple benchmark test for healthy dieting at a salad bar.  I call it the "color test."  Look at your selections at the salad bar. If the colors include green, red, orange, black (olives), and beige, you are okay. If you see a lot of white, however, you are entering a danger zone from a nutrition and sanitation point of view.  The larger quantity of white you see on your plate from creamy items, the more you are negatively impacting your health and possibly getting deeper into the "metabolic syndrome danger zone".  At the same time you are increasing your risk of food borne illness including Hepatitis A.
The first step: Restaurant Sanitation Assessment
When entering a restaurant with a salad bar the first thing to do is to look at the premises and employees.  Is the restaurant and salad bar area clean? Are the employees clean cut with clean and tidy clothing?  Is their grooming acceptable?  Any doubt about cleanliness should be a clue that their salad bar may have issues that could impact your health.  Food poisoning from salad bars is common, but the worst kind of infection you can get from a salad bar is Hepatitis A, transmitted from infected employees that service the salad bars where they employ unsanitary practices.  However, there is a way to lower your risk of this infection by over 90%, which I've outlined below.
Restaurant Policy and Procedures
How are the various offerings prepared? For instance, are the red beets sliced or diced?  Diced ingredients have a larger surface area and therefore more susceptible to bacterial contamination and growth.  When employees restock ingredients at the bar, do they replace the offering or do they just dump the newer addition on top of the previous content and stir?  If you observe this kind of procedure at the restaurant, avoid the salad bar, since contamination is assured.  Many salad bar choices are swimming in liquid like sliced pickles, beets and olives.  Look at the liquid- is it murky? Are there other things floating in there? If so, don't choose that ingredient, or carefully select the part of the offering that is least submerged.  In the case of pickles, these are very safe because they float in vinegar, which has a low risk of contamination due to its acidity.
Do you like raw broccoli in a creamy white sauce?  This is almost always contaminated, so if you choose this item, please make sure to douse it directly with lots of red wine vinegar or white vinegar, an excellent healthy biocide because of its low pH!
What to Eat at a Salad Bar
Select lettuce, especially mixed lettuce with shredded red cabbage and carrots.  Other optimal choices include raw broccoli (no sauce), carrots, celery, beets, radishes, pickles, olives, spinach, collard greens, garbanzo beans, red beans, and peas.
Do not use dressings like Ranch, Thousand Island, French, or blue cheese.  Use Italian dressing with an oil and vinegar base. It is best to use vinegar as your only dressing.
Do not use the oil most restaurants offer because these are usually soybean or corn oil which cause Chronic Low Level Inflammation (CLLI) in your body.  If they offer olive oil, watch out, because most places refill oil containers and this leads to rancidification.  Rancid oils are toxic and suspected carcinogens.
However, it is still best to use only vinegar (red or white).  This is a way to destroy any bacteria on your greens or creamy broccoli choices.  Another good choice is lemon juice or a combination of lemon juice and vinegar.  If you demand a little more flavor, you may use about a teaspoon of Italian, blue cheese, or French dressing and then add a lot of vinegar and toss.
When back at your table add a little salt and pepper and a pinch of sugar and toss.  This is the best, healthiest, and safest salad bar salad you can eat.